As we couldn't afford to go to New York, we went to old York instead.

York is a place that I'd never properly been to before. Passing through on the train doesn't really count as a visit now does it?

The first thing that strikes you is how pretty and well looked after the city is.
I noticed how clean the streets are compared with Glasgow.
There's no litter or mess left lying around. Which is odd as there didn't seem to be many litter bins around. And there were no ominous circling colonies of Gulls waiting to scavenge the scraps of the weekend.

Many of the shops had bowls of water left out for dogs on their doorstep..
Overall it gives the place a friendly and welcoming vibe.
Maybe the good citizens of York just take more pride in their city?

There were a couple of things that we wanted to see on this trip.
Mainly the old buildings and the historical sites. The Viking stuff and the Minster.
On a side quest I also hoped to find out what sort of independent business was on the go in the city.

The last point caused me problems and I found it incredibly difficult to research before going.
I told a lot of people that we were going here and had a lot of them tell me "Oh I love York".
Yet nobody could recommend anything to me when pushed.

Also my searches either gave me craft beer places (Google you know me too well) that weren't open on the days of our visit (what happened to don't be evil?) or I was getting search results for "New" York.
Really I wanted to drink some nice Yorkshire bitter and eat some local food, visit the places of interest and photograph some small and quirky indie businesses.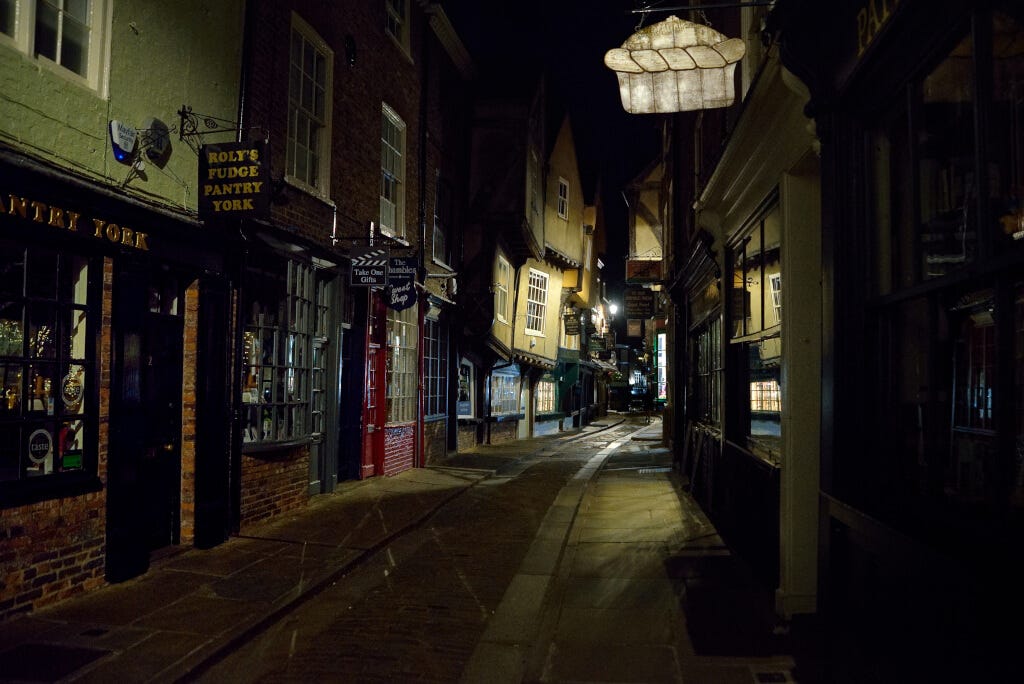 I was excited to visit the famous Shambles. That was the first port of call.
This old street is a treat to wander about. The tight edges and wonky buildings are great to look at.
It gives a real connection to the past. In my research I'd seen a few really good series of photographs of the shambles, all of them were taken at night. It's only when you're there that you understand why.
It is an extremely busy street.
Actually everywhere is. At least during the day. The city is full of tourists from all over the world.

That makes it difficult to photograph the place. I can imagine if I was sent on a job here I'd have to shoot a lot of images and then paint everybody out in post. Or do them close to midnight like the one above.

The city streets are also surprisingly dark.
Despite the weather giving us the last breath of summer.

The buildings aren't particularly tall but the streets are tight.
That means there are big areas of shadow cast across the street.
You might not pay too much attention to this walking about but take a photo and you will. It causes some harsh areas of contrast.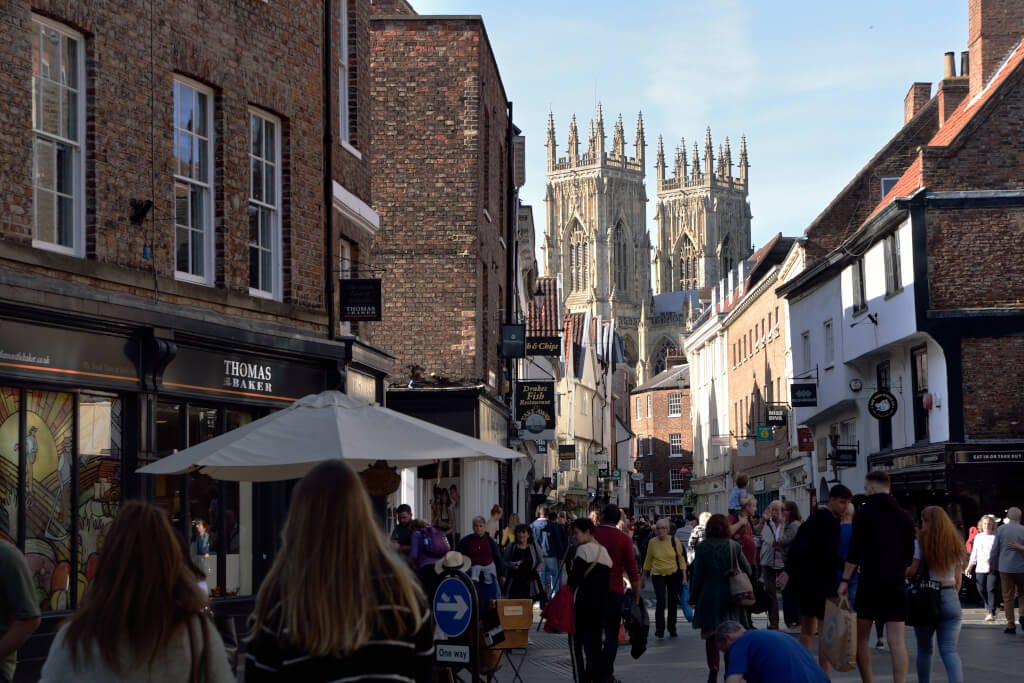 Dominating the city is York Minster Cathedral.
It is a colossal building, even by today's standards.
The largest Gothic Cathedral in Europe.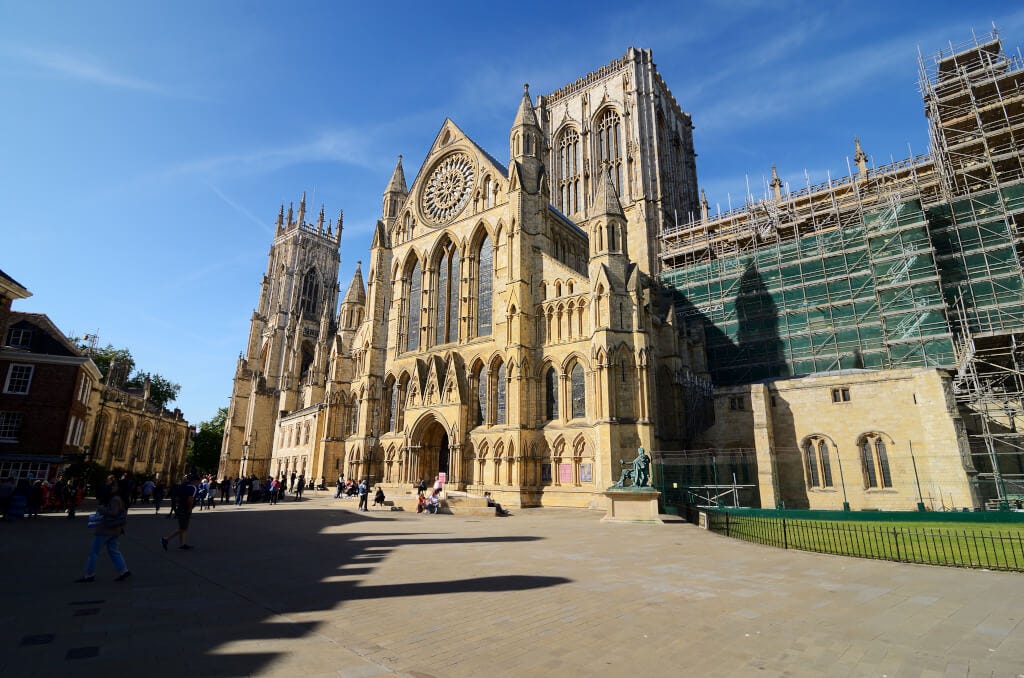 It's an incredible structure. In so many ways.
There's a lot of renovation and conservation work going on around the Minster.
Which means a lot of scaffolding. But it also means you can watch them working on the pipe organ in front of you. This building is a mixture of the new and the old. All carefully blended together.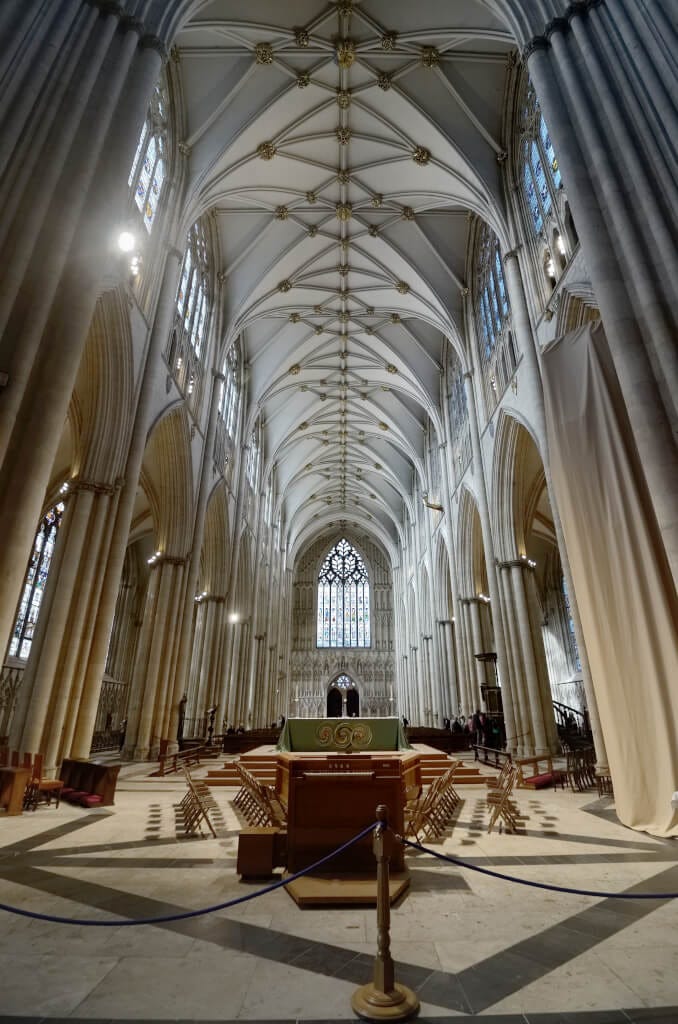 I can imagine what it would have been like visiting this in the middle ages and the statement that it would have made.
God and the church before everything else.

It's good that the general entry tickets are valid for a year and it's worth paying extra to go up to the tower. The view from up there is very impressive. It's the highest point for miles.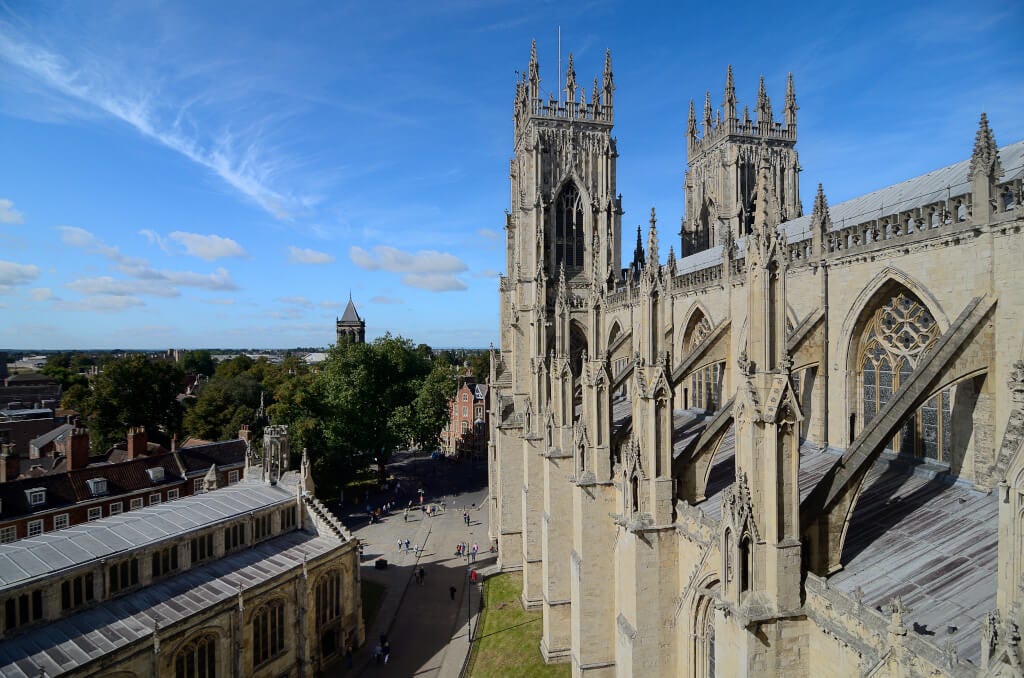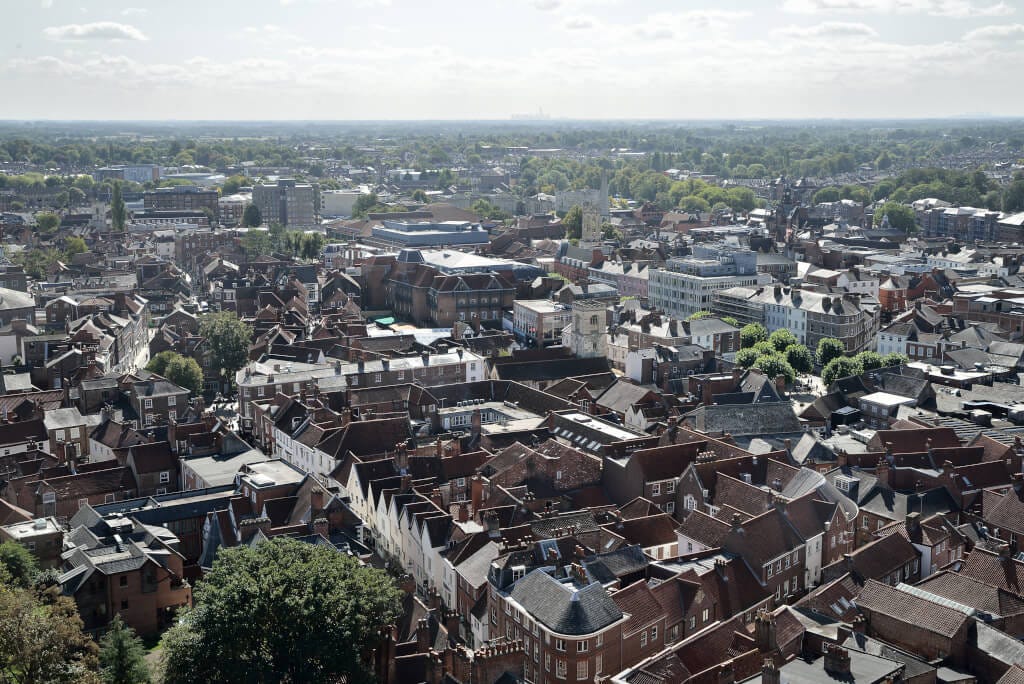 You could spend a whole day in this place, there's so much to see.
Even if you just spent the day looking at the details in the stained glass windows.
There are some visible scars from the 1980's fire. The path that leads to entry to the tower goes past the south transept roof that was destroyed that night in 1984.
I like the fact that the building wears those scars and they weren't cleaned or covered up.
In this photo you may be able to make out the scorch marks on the wooden prayer kneeler and the scrapes down the wall besides the crucifix. To the left of the base of the cross there a splash on the wall of melted roofing material.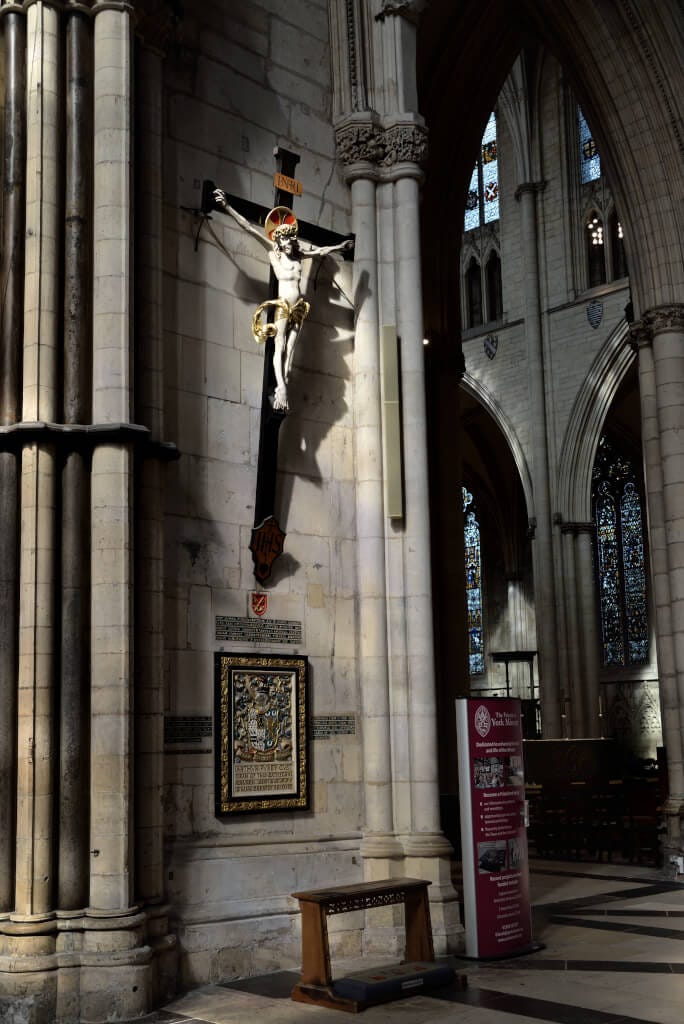 I do hope the same will be true of the Glasgow School of Art and Notre Dame when they are inevitably restored.
The Minster is both an easy subject to photograph and a hard one. It's overwhelming.
If the point is to make photos showing the scale then it's easy, if the point is to make more subtle images then it's difficult.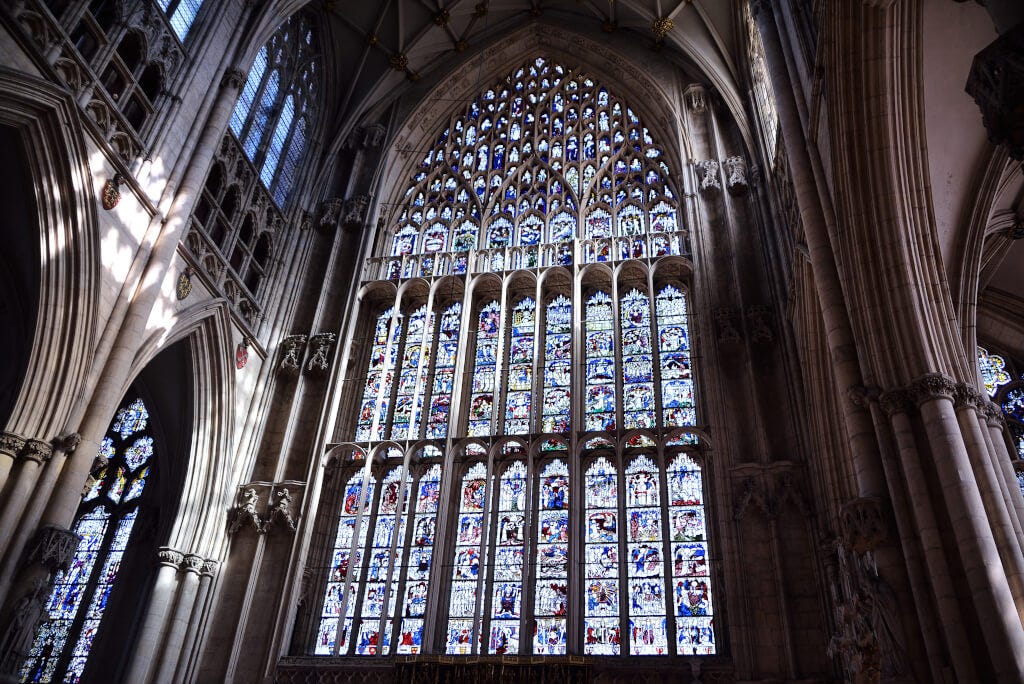 As I sat in awe of the spectacular east window a service started. I was glad of this. At least I was after my initial panic of "Oh no, I'm stuck" subsided.
This is a working church after all.
I don't like walking around empty buildings that are divorced from their purpose or story.
I'm not a very good tourist, the whole concept bores me.
But being there at a service in front of one of the finest pieces of medieval architecture just felt satisfying and right.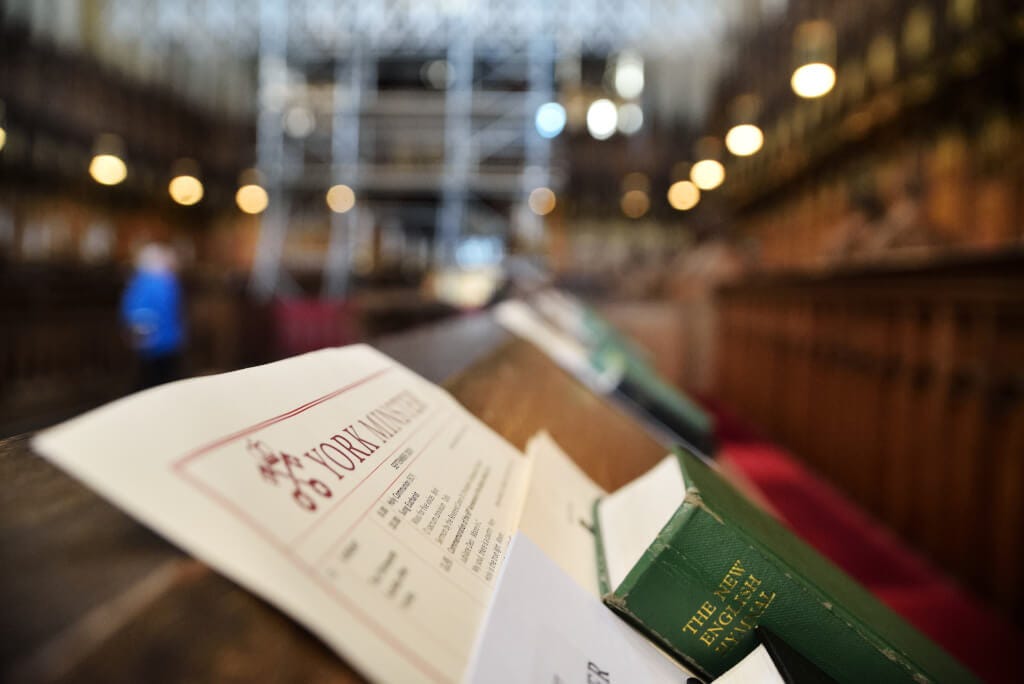 The Jorvik centre was next on the list to visit.
Again it's good that the tickets last for a year rather than just one day.
This wasn't what I was expecting. I thought it'd be a museum, at least a standard museum but it's not.

It's actually a great piece of interactive and experimental archaeology as the story and museum evolves as they discover new things.
I'm not going to share my photos from here simply because I didn't see any before I went in and felt that not knowing added to the experience.

I did find some cool independent places but I'll write about that in another post.
That's another story for a different day.

There was one last place that I wanted to take a pilgrimage to before we caught the train and headed up the road.
One thing that I wanted to see.
And it was this…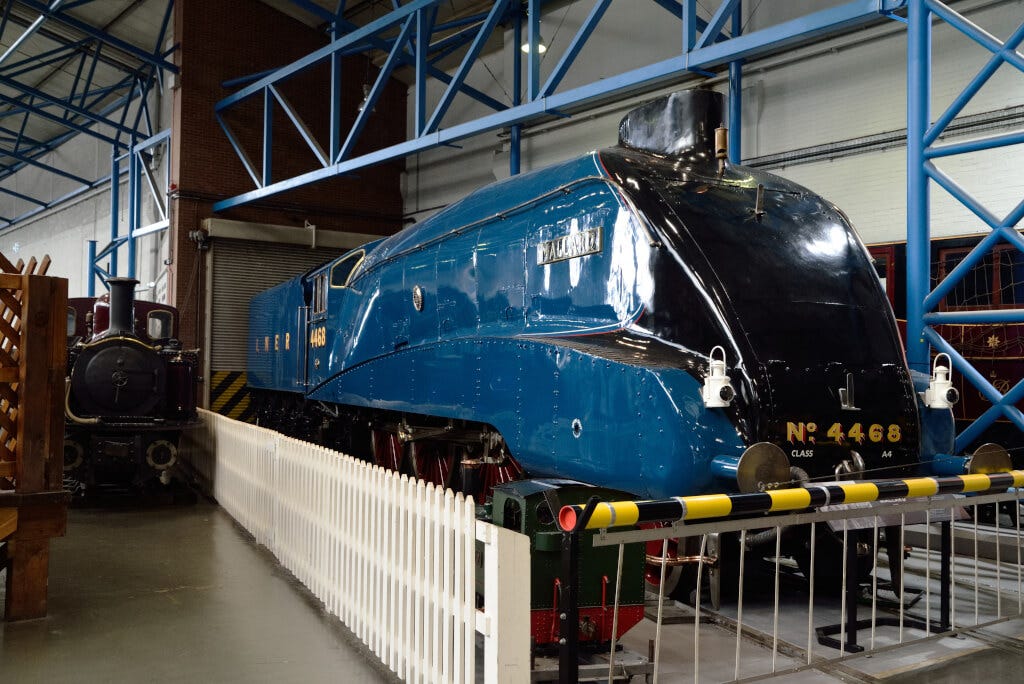 Mallard!

The fastest steam locomotive and one of the most famous steam engines ever made.
Also the stuff of childhood dreams/disappointments. Delete as applicable depending on if you got that Hornby train set for Christmas as a child or not.
I didn't.
But it's a shame that the Mallard is parked in a corner. You can't take a clear photo of it or walk around it, you can at least touch it.
The National Railway museum is a cool space. It's also free (but give them a donation).

Further Reading & Viewing

York Minster Fire Documentary