Remember Remember the fifth ... no wait that's not it.
It's the 3rd of November and it's Last Night From Glasgow's all dayer in Òran Mór.
10 Bands on show from 1pm to 11pm.

To recap for the unfamiliar, Last Night from Glasgow is a not for profit record label.
They offer a subscription to members that gets you a certain amount of releases, gig tickets and good karma per year.
I won't repeat their story as it has been told before but it is quite an innovative model and a clever yet simple idea.
I'll link some interviews at the end.

I've been to a few of their nights before, once or twice by accident.
I've also had to miss a few recently for one reason or another.
This was one that I wasn't going to miss.

Unfortunately I wasn't able to make it along in time to see Slime City.
That's a shame as I love that band. And their previous band We Are the Physics.
Both very crazy bands.
I also missed Lemon Drink and Plastic Youth though I'm sure I'll catch up with them another time.

First band that I saw were Fightmilk from London.
They mixed some clever and witty lyrics with punk pop.
Lots of punchy guitar chords and thrashing around.
There was something almost Britpop about them. In a way reminding me of the band Sleeper if not quite sounding like them.
But that's a good thing as I loved Sleeper.
And I loved Fightmilk.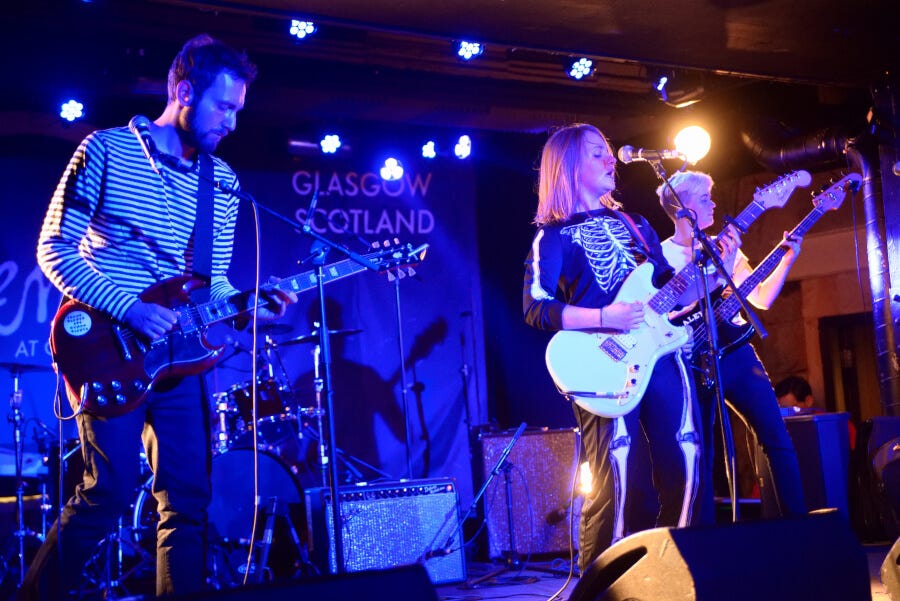 Next up was Domiciles from Fife.
This five piece play quite psychedelic intricate and almost verging into prog rock territory.
But there's also a big analogue synth basis to their sounds.
If this band had been around a few years ago they almost certainly have been a totally instrumental band, as that just seemed the thing that everyone was doing back then.
And I've always felt that was a flaw.
Not here. they have songs, with lyrics and more than one voice singing them.
It works really well. Quite an impressive band well worth checking out.
There were a couple of songs that had such a low frequency dirty bass sound, imagine the kind that you could stop a riot with, that I had to move in the room to use people or the pillars and walls as a physical shield against them.
L-Space are the band that were my introduction to Last night From Glasgow.
The first night I went to they were the main support band and I've kept an eye on them from a distance ever since.
They are on the verge of releasing a new album but were using us as test subjects to discover which song should be released as a single, or not.
They're still making synthy electro pop music and it's nice to watch them grow and evlove.
In August I walked through Edinburgh at the tail end of the festival.
I remember seeing a guy standing at the Grassmarket with a guitar strapped to him shouting "Show is starting Show is Starting" in a vain attempt to gain some attention. Nobody stopped for him.
Contrast that to Annie Booth taking to the stage here.
The house lights were up and everyone was talking.
Then the lights went low and she just started to play and sing, quietly.
Within 5 seconds she had the whole audience silent and transfixed.

She's a really good performer with some very strong songs. Most of which are not yet released.

Martha Ffion is another singer/band/artist that I've known the name of for years but never managed to see.
And despite not hailing from Glasgow originally her music fits perfectly into the canon of Scottish jangle pop bands. From the BMX Bandits to Camera Obscura and everything in between.
Also I noticed that all the stage lights got a little brighter for her.
Is that because she used to work at the venue? Or am I just noticing something unconnected?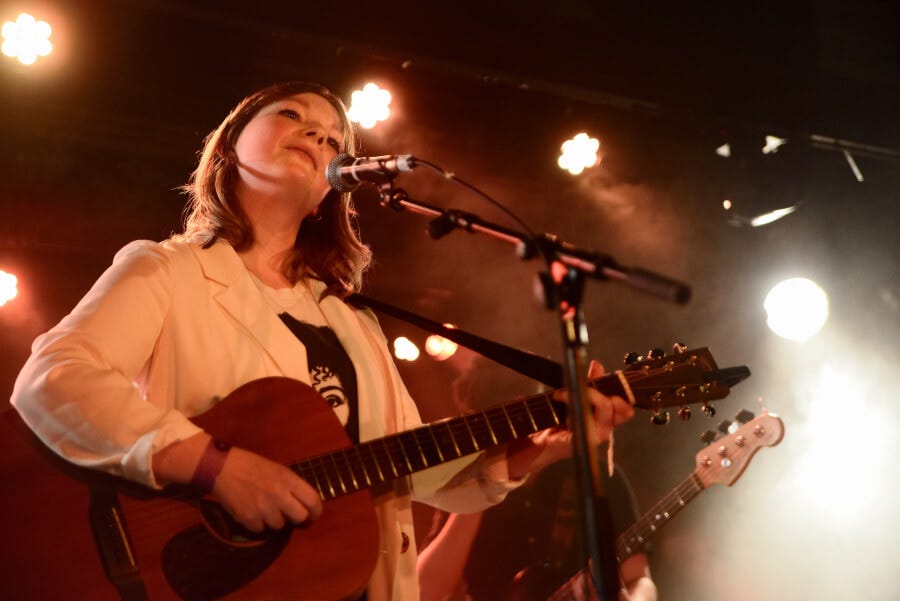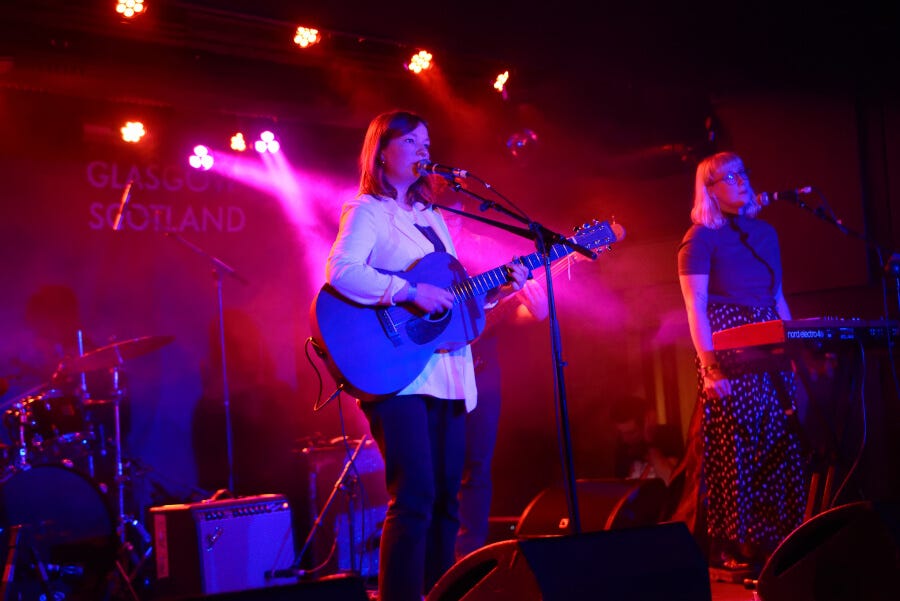 Broken Chanter if truth be told were the band that I'd come to see.
I've seen David play a solo acoustic version of Broken Chanter but hadn't seen him with the full band. I missed the recent album launch gig.
I'm not sure which I preferred, solo or accompanied. Either way I've not been disappointed.
the full version is just that. Full. The mix of backing vocals against David's voice adds a lot. And then there's the fiddle...
I love how it all sounds very Scottish and very contemporary but without trying to be any of those things.
Bonus Kid Canaveral song too.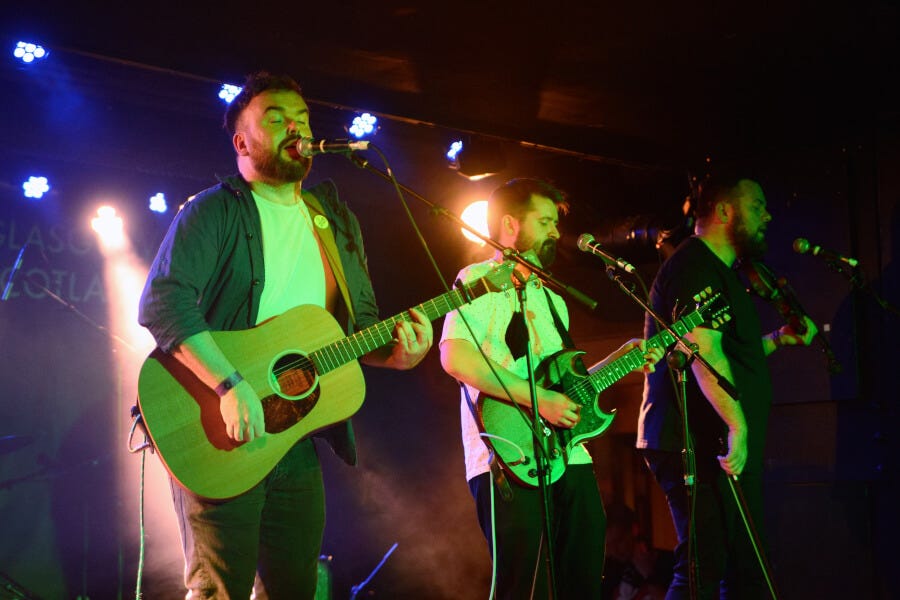 Last but by no means least were the Gracious Losers.
Who put in a set that made them winners in my book.
Again a new band to me but again playing mostly new songs that they'd never performed before.
They had 3 backing singers which is something that you don't often come across.
They are a little bit Americana, little bit Gospel, a pinch of Trad and a lot of fun to watch.
These nights are great because you get a little taster of everything on offer. And I suppose for the bands and the label they get to try out what people responde to or not.
There's a stupid amount of talent about at the moment and it'd be great to see them all go on to solid success.

More:
http://popoptica.com/2019/10/21/last-night-from-glasgow/
http://www.lastnightfromglasgow.com/

Bonfire Night:
Of course there's the other Remember Remember thing in November.
Bonfire night.
I gave myself a challenge this year. To go and make a photo that showed some atmosphere from the night.
Glasgow Green isn't the most photogenic location. The view that you have is either of the fun fair & the big screens or trees. The ideal would be the People's Palace but access to that part of the park isn't that available.
Now of course I could photograph them both and composite them but a: that's cheating and b: I don't need to give myself more work.
I have seen some really nice photographs showing the river and the bridges and the fireworks going off in the distance but I don't want to do that. It's a very distant view and it makes a lonely photograph. I wanted to see people and I wanted to see life to misquote someone.
I have other photographs of the McLellan arch in different seasons and at the Commonwealth Games at similar. So I chose that. the doorway to the Green.
I planned my route and what I was going to photograph, then how I was going to process them. In the end I did have to composite a little, to hide any recognisable people.
In the end it's a fun little image, don't you think?